This article describes how The Story of the World family of products relate to one another. You can see a sample of each product on our online store--click the Sample button under the product's photo.
The core component of The Story of the World curriculum is the text. In four volumes, this series tells the world's history as a story. Most families complete one volume per year, but the timing is up to you. The text is available in hardback, paperback, PDF, and (from other vendors) ebook formats, and in audiobook format, read by master storyteller Jim Weiss. The audiobook is available in CD or MP3 format.
The Story of the World Activity Books include Instructor material, the Student Pages and the Coloring Pages. In other words, the Student Pages and Coloring Pages are subsets of the Activity Book.
The Activity Book has two parts: the first part is the Instructor Guide. It includes vocabulary, review questions, directions for all of the suggested activities and assignments, and additional reading lists to help the Instructor/Parent. The Activity Book is available in paperback or PDF format.
The second part of the Activity Book is the Student Pages, which you copy/print as many times as you need to students in your household. The Student Pages are perforated for easy removal from the Activity Book. They include maps, puzzles, games, and, except for the original edition of Volume 4, the Coloring Pages. You can purchase a separate copy (looseleaf or PDF) of the Student Pages if you wish to leave your Activity Book intact or if you need more than one copy for your family's use. Everything in the Student Pages is in the Activity Book.
The Coloring Pages are a subset of the Student Pages. If you have purchased either the Activity Book or the Student Pages, you already have the Coloring Pages. You may copy or print these as often as you need to for use in your own family. The standalone Coloring Pages are sold only as a PDF.
The instructor guide in the Activity Book has a set of "Questions for Review" for each chapter, with suggested student responses. Parents and young children do these orally. When you use The Story of the World with older students, you might ask the student to respond in writing. To make it easier on you, we created the Review Questions Worksheets (formerly known as the Written Comprehension Responses). We copied the "Questions for Review" from the Activity Book, and left space for the student's written response. The suggested responses (answers) are in the Activity Book.
The Test Booklet and Answer Key has a test for each chapter. It includes questions in a variety of formats including multiple-choice and short-answer. The answers are included on separate pages. These are intended for students grade 4 and older.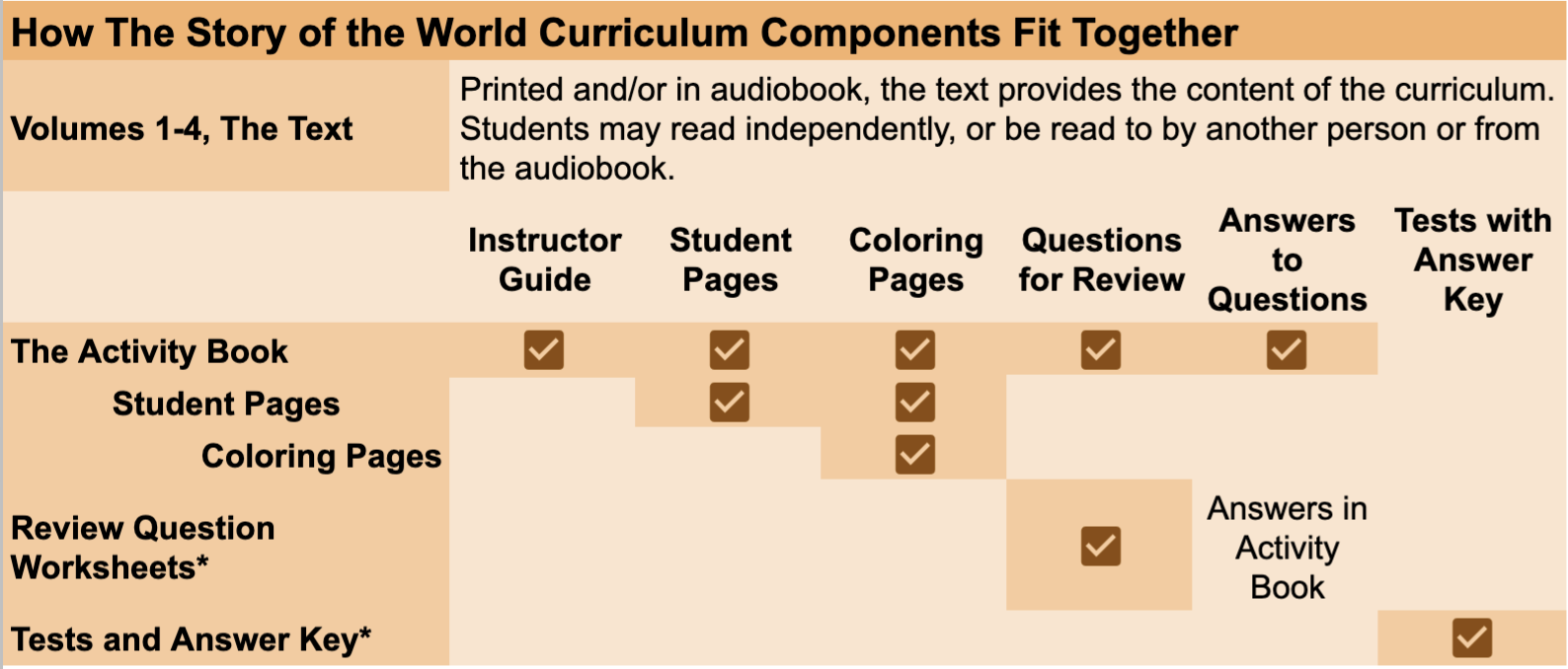 ...or to put it another way...
And one last graphic, to show the available formats for each component.